Lipomassage body slimming machine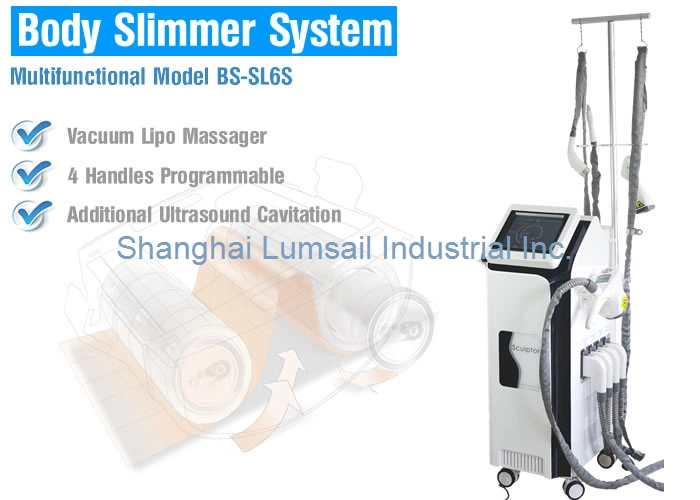 BS-SL6 body slimmer and contouring system, is a professional beauty equipment based on multiple technologies,
Including vacuum suction lipo-massage, infrared laser lipo resolving light, radio frequency thermal, which is proved to effectively reduce the appearance of cellulite, increase circulation, relieve minor muscle aches and pains, and relas muscle spasms.
The compond body treatment experience is a comprehensive, non-surgical spproach which embraces the physical and aesthetic needs of whole body using the top techniques proven safe and effective.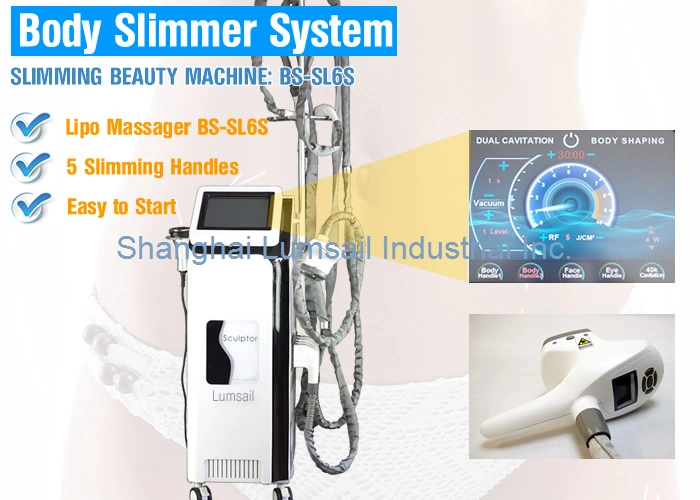 Body Contouring
Improve the shape of your body , the most advanced system for non-invasive body contouring.
The device also offers treatments for cellulite reduction, skin tightening, and wrinkle reduction for the face and body.
Features
- Powered by Multi-Polar Radio Frequency and Pulsed Electro Magnetic Fields
- Real-Time Thermal Feedback for immediate monitoring of skin temperature profile
- Safe for all skin types
- Comfortable treatments with no downtime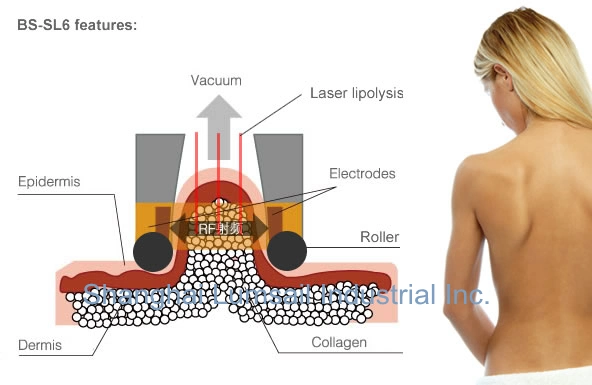 Obtain the look you deserve with BS-SL6S, a state-of-the-art controlled light-based technology, ideal for those looking to get rid of stubborn fat.
BS-SL6S treatment is a completely non-invasive laser procedure for getting rid of fat through the skin.
Treatment can be completed in just 25 minutes, perfectly fitting into that busy schedule that has been holding you back from getting the body you deserve.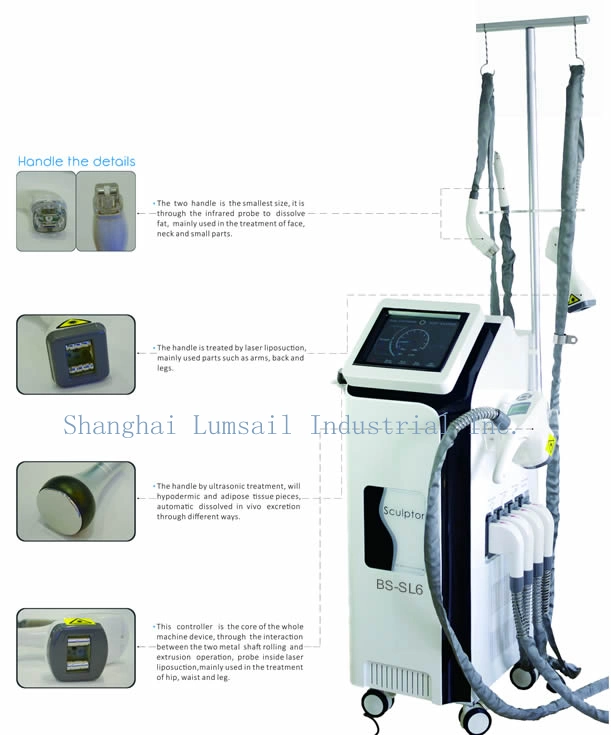 A SLIMMER, NATURAL-LOOKING APPEARANCE WITHOUT SURGERY OR DOWNTIME
The body contouring technology targets and destroys the targeted fat cells safely within just 25 minutes with no recovery time following treatment, so you can resume your daily activities immediately.
You Can Even Schedule your Appointment to Be Treated During Your Lunch Break and Complete the Rest of Your Day With no Problem.
Fat Reduce
This system can target multiple areas during a single procedure.
Customizable to meet any individual's needs. SculpSure can destroy up to 24% of subcutaneous fat that is eliminated over time through the body's lymphatic system.
Improvement can be seen in as little as 6 weeks with optimal outcomes seen in 12 weeks.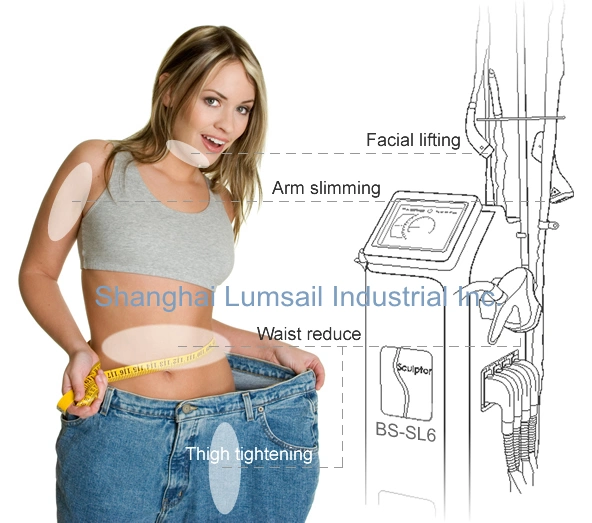 Neck
: Define and contour the neck and chin by breaking down fat cells under the tissue.
Decollete
: Firm and contour the decollette' from under the collarbone to the vee on the chest.
Eye Laxity/Eyebrow Lift
: Reduce the appearance of dark circles and bags under the eyes; give the eyebrow area a lift for a more youthful look.
Buttocks/Thighs/Calves
: Firm, lift and contour the buttocks, thighs and calves to give the body a smoother, slimmer silhouette.
Facial Contouring
: Give your jawline more contour and definition by breaking down fat cells under the tissue and tightening sagging skin in the area.
Arms
: Lift and tighten sagging arms to give a firmer, youthful appearance.
Waistline
: Give the waistline more contour and definition by breaking down fat cells under the tissue.
Belly/Abdomen
: Treatments work to break down fat cells around the abdomen area, resulting in noticeable circumferential reduction.
Bra Line
: Firms and reduces overhang by breaking down fat cells under the tissue.
Hands
: Give hands a slimmer silhouette.
Cellulite Reduction
: Reduce bumps and dimpling around the buttocks and thighs, resulting in a smoother, slimmer silhouette.

Specification
General
Dimension
625*525*1190mm
Input Power
< 800W
Vacuum Suction Pressure
AB pressure: 10kPa-85kPa (7.6cmHg-60.8cmHg)
RE pressure: 20kPa-100kPa (15.2cmHg-68.4cmHg)
Rolling Speed
0-36rpm adjustable
Rolling Mode
Roll-in, Roll-out, Roll-over, Roll-back
Handle
Lift massage handle X 1 (30*50mm)
Facial skin treatment handle X 2 (4*7mm, 825mm)
Electric Specification
AC 220V-240V,, 50Hz or AC 110V-120V, 60Hz (US version)
Net Weight
85KG
Laser System
| | |
| --- | --- |
| Radio Frequency | 1-10MHz self-regulation |
| Radio Frequency Energy | < 60J/CM3 |
| Laser Lipolysis Wavelength | 650nm and 940nm |
| Infrared Laser Energy | < 20Watts |
| Delivery System | 7-joint, fixed mirror articulated arm |
| Aiming Beam | 3.5mW, 650nm red diode laser |
| Cooling system | Water |
| Control Panel | True colorful touch screen control panel |
Environmental Condition
| | |
| --- | --- |
| Temperature | +10 ~ +40ºC |
| Relative Humidity | 30 ~ 75% |
| Atmospheric Pressure | 700 ~ 1060hPa |
Company
LUMSAIL is a medical and aesthetics equipment manufacturer in past years. Our main products cover physiotherapy equipment, skin analysis equipment, laser healthy instrument, etc.
Company advantages:
1. Specialized in production of medical and aesthetic equipments for many years.
2. The professional and innovative engineers are the pioneers of optoelectronics in China.
3. ISO9001 proved Quality control and test system, each machine is in the best quality control.
4. CE proved machines, the key for you to legally use and sell the machine.
5. Spare parts self produced, production cost is in control.
6.Within warranty, we offer free repairing service and prvide replacement parts for free.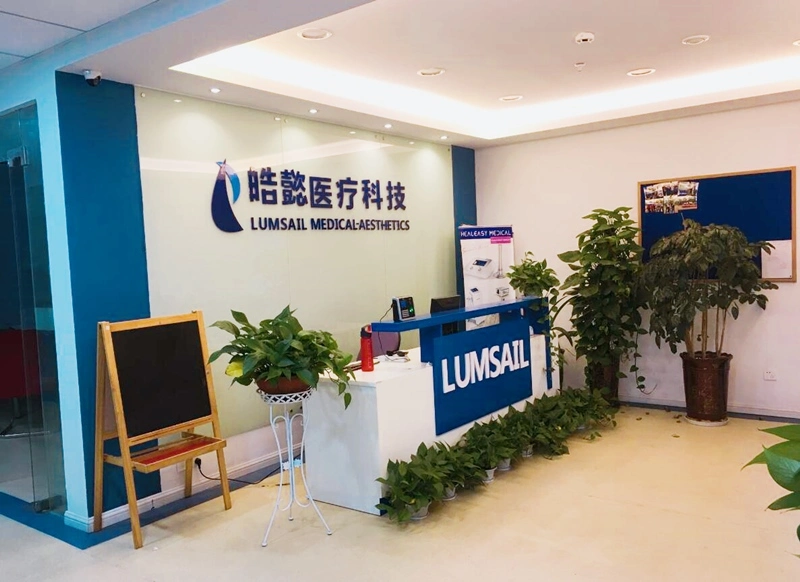 Exhibition